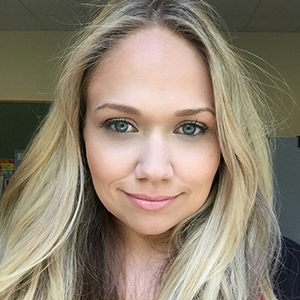 Emerging Technologies Specialist
PAMS Library
Who are you and what do you do?
I'm Alexandra Kowsh and I'm the Emerging Technologies Specialist at the Physical and Mathematical Sciences Library in University Park. My job is interesting because it is a hybrid of working both with the Library and Media Commons. When I'm not managing the library's collection, I am usually working with patrons in our One Button Studio or Soundbooth. I also research and implement new technologies into the library for patrons.
What equipment do you use?
Being integrated with both the library and Media Commons allows me to diversify the types of hardware I use. Primarily the libraries run Windows for collection maintenance, however with our One Button Studio and Soundbooth setups we prefer to record and edit on Macs. At home I use my Windows laptop along with my iPad Air and iPhone. Being the daughter of a Computer Programmer and learning to use multiple machines has really helped me appreciate the differences between other platforms.
What apps are your favorite?
For work, I love taking notes on my iPad with Microsoft One Note. Box is great too, since I can access my documents from the cloud and open the notes up via Microsoft Office apps. For personal use, I enjoy Instagram, Snapchat and any type of crossword or puzzle app. Recently I've become obsessed with Little Alchemy and Duolingo.