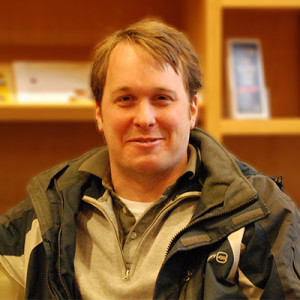 Maker Commons Consultant
Pollock Building
Who are you and what do you do?
My name is Dan Getz and I am a Media Commons Consultant at University Park. I am a Penn State Graduate from 2010 so working for the University has made me feel right at home. Aside from the day to day duties common with all Media Commons consultants, I also help to create training materials for the Media Commons website like the iMovie Training Modules. I am also heavily involved in a lot of our video productions usually helping to plan, shoot, and edit. You can find me over in the Pollock Computer Building from 9:00 am – 5:00pm.
What equipment do you use?
Before working for Penn State I was mainly a PC guy, but since coming here I've pretty much converted completely to Mac. For work I use a MacBook Pro that has all of the software that a person would need to create multimedia such as the Adobe Suite, iMovie, and Final Cut Pro. I also have a second laptop that runs the Virtual Box software to simulate a PC and on that we have Articulate Storyline, which is a great tool for creating advanced training materials such as the iMovie Training Modules. With the Maker Commons opening up, I have also been using TinkerCad and Blender 3D for 3D modeling. I remember working with Blender back when it first came out and it has certainly come a long way since then. I also have a background in music and an interest in audio production, so I have been trying to become familiar with Ableton Live to get into something a little more advanced then Garageband.
What apps are your favorite?
There are certainly a lot that I am fond of but if I had to narrow it down to a few, the first would have to be Waze, the GPS app. Having had problems with other apps in the past, this one has very rarely let me down and the interactive aspect of it really helps set it apart from other apps. I'm a heavy user of the Podcast App that comes on the iPhone. For photos I use some of the more common apps but I recently started using Pixlr again which is a very easy to use app with a lot of different options for how you can edit your photo.