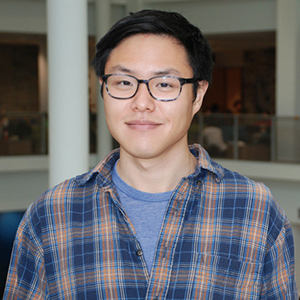 Maker Commons Consultant
Pattee Knowledge Commons
Who are you and what do you do?
I'm Graham Berg and I'm an (occasionally-traveling) Media Commons Consultant out of University Park. I'm based out of the Pattee Library, but travel to the Commonwealth campuses a few times a month as needed, to provide multimedia support and training. Typically, this takes the form of One Button Studio maintenance and consultation. When not traveling, I provide the same multimedia consultation and instruction to students, faculty, and staff as they work on their projects at UP.
I went to school for film production, and have a strong love of physical and digital media. I've planned, filmed, edited and generally lost a lot of sleep over many a personal film project. I'm also a big music nerd, and spend most of my free time playing guitar or listening to a good album.
What equipment do you use?
Ever since I bought a MacBook for college back in 2008, I have been pretty much all Apple-based. I use a MacBook Pro everyday, both at work and at home, and I put a lot of trust in my iPhone 6S.
When I'm not taking notes on my laptop, my notebook of choice is a Moleskine, coupled with a Pilot G2 pen (0.7mm). Even though reliability of technology has grown by leaps and bounds, there is still something safe and satisfying about physically writing a thought down.
What apps are your favorite?
I take a lot of notes and make a lot of lists, so the Notes app, both on my computer and phone, is essential. For video editing, I typically use Final Cut Pro, but I'm starting to warm up to Adobe Premiere. Photoshop has also long been a favorite program of mine.
When it comes to recording music, Logic Pro X is pretty remarkable. And now Apple has made GarageBand very similar in look and basic function, so that usually does more than plenty for a quick recording.
And, though it's probably implied, it's also worth mentioning that not much would get done throughout the day without the standard Mail and Calendar apps and Google Docs to communicate and organize!