Printing Guidelines and Best Practices
Adhering to University Policy
Content of all submissions must conform to the University 3D Printing and Copyright Policy.
UNIVERSITY 3D PRINTING POLICY
Penn State's Maker Commons may only be used for lawful purposes.  Penn State will not print models that are prohibited by any law or regulation. To ensure the safety and compliance with University Policy SY12, Penn State will not print any object that may function as a weapon or part of a weapon.  Moreover, Penn State will not print any object that is unsafe, harmful, dangerous, poses a threat to the well-being of others, or is otherwise contrary to the University's Student Code of Conduct. Penn State will not print prosthetics. Penn State will not print models that infringe on intellectual property rights of others, including objects that are copyrighted, patented, or trademarked.  Accordingly, Maker Commons staff may ask you to provide proof that the work to be printed is:  your creation; within the public domain; part of your University research or coursework; and does not conflict with any University policy or the restrictions stated above.
NOTICE WARNING CONCERNING COPYRIGHT RESTRICTIONS
The copyright law of the United States (Title 17, United States Code) governs the making of photocopies or other reproductions of copyrighted material.
Under certain conditions specified in the law, libraries and archives are authorized to furnish a photocopy or other reproduction. One of these specific conditions is that the photocopy or reproduction is not to be "used for any purpose other than private study, scholarship, or research." If a user makes a request for, or later uses, a photocopy or reproduction for purposes in excess of "fair use," that user may be liable for copyright infringement.
This institution reserves the right to refuse to accept a copying order if, in its judgment, fulfillment of the order would involve violation of copyright law.
Centering Your Object
Orienting Your Object
Make sure your model is oriented correctly on the platform. If your print is tall, you may want to re-orient the object to lay flat so it will need less support while printing.
Adding Support, If Needed
Make sure Support is turned on in the 3DPrinterOS cloud slicing software settings before you export if your object has any area that is supposed to exist over empty space. Without support the print is almost certain to fail and you will end up with a spaghetti print.  The default slicing profile Recommended (PLA) Dremel 3D45 Full Support maintains supports "Everywhere" that is needed.  This includes all parts of the model if there is any overhang of negative space.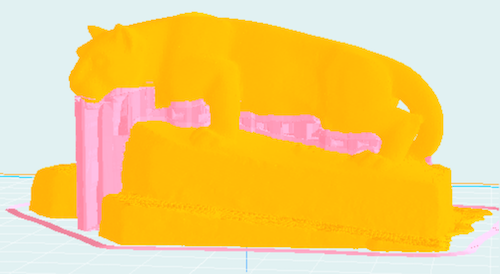 You can change the slicing profile to Recommended (PLA) Dremel 3D45 Minimal Support  which will only put supports under parts of the object that are "Touching buildplate".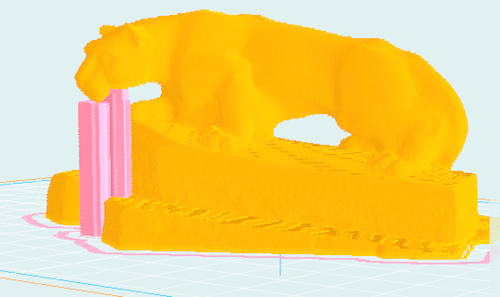 Lowering Infill Density
Staying Within Build Volume
The build volume on the Dremel 3D45 printers is 9.6″ L x5.7″ W x 6.3″ H (245mm L x 145mm W x 160mm H). Print submissions cannot exceed this size or they will not be able to be printed. If the object is too large and needs to be scaled smaller, a warning will appear when you are in the Layout screen.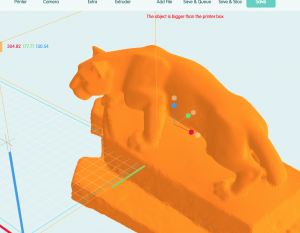 Tolerance
How accurate are the 3D printers and how much variance is there from design to finished print?
±19% or ±10% or something completely different?
For small objects printed with PLA filament, it may vary significantly depending on the orientation of the object. We did a test with a stepped print, modeled in TinkerCAD, that varies in size as a 1mm, 2mm, 3mm,4mm and 5mm rectangle that is 15mm X20 mm wide. This was then used to create a keyhole in a duplicate of the object.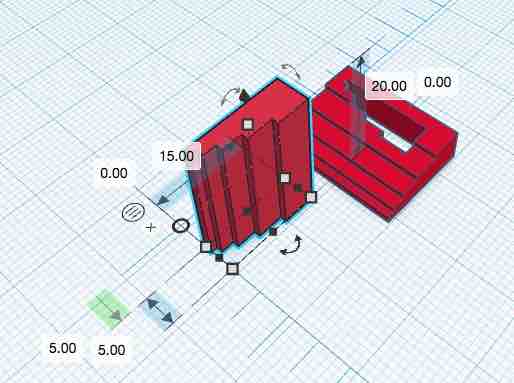 This was then printed with a 0.3mm layer height. The printers have a 0.4mm nozzle. The one with the hole was printed horizontally, so that no supports were needed. The "key" was printed vertically. The vertically printed dimensions measure 1.18mm, 1.94 mm, 2.81mm, 3.90mm, and 4.94mm. This ranged 19% larger-19% smaller then the model dimensions. The total length and width(height in this case) were 15.29mm X 19.83mm or roughly 2% larger and 1% shorter .
When it was printed horizontally, the steps were 1.11mm, 1.80mm, 2.78mm, 3.82mm, and 4.98mm. This ranged from 11% larger to 10% smaller. Length 15.55mm X width 20.2mm or 3.5% larger and only 1% wider.
The interior keyhole measured 0.79mm, 1.88mm, 2.82mm, 3.9mm, and 4.58mm. This ranged from 26% smaller to 6% smaller. The smallest measurement was difficult(14.38mm X 4.33mm).
This test was only printed once and there my be more variability between individual printers as well as variance based on the uncalibrated Harbor Freight caliper used for the measurements. The layer height may also affect these results.
Dremel additionally claims in their FAQ at https://digilab.dremel.com/support/faq the following:
The 3D40 and 3D45 Printers have a maximum resolution of 50 microns (0.05mm), the 3D20 has max resolution of 100 microns (0.1mm). All printers have a minimum resolution of 300 microns (0.30mm). The higher the resolution, the smaller each layer and the better your object will look. The layer resolution depends on the setting: Low – 0.3mm Medium – 0.2mm High – 0.1mm Ultra – 0.05mm (3D40 and 3D45 only)"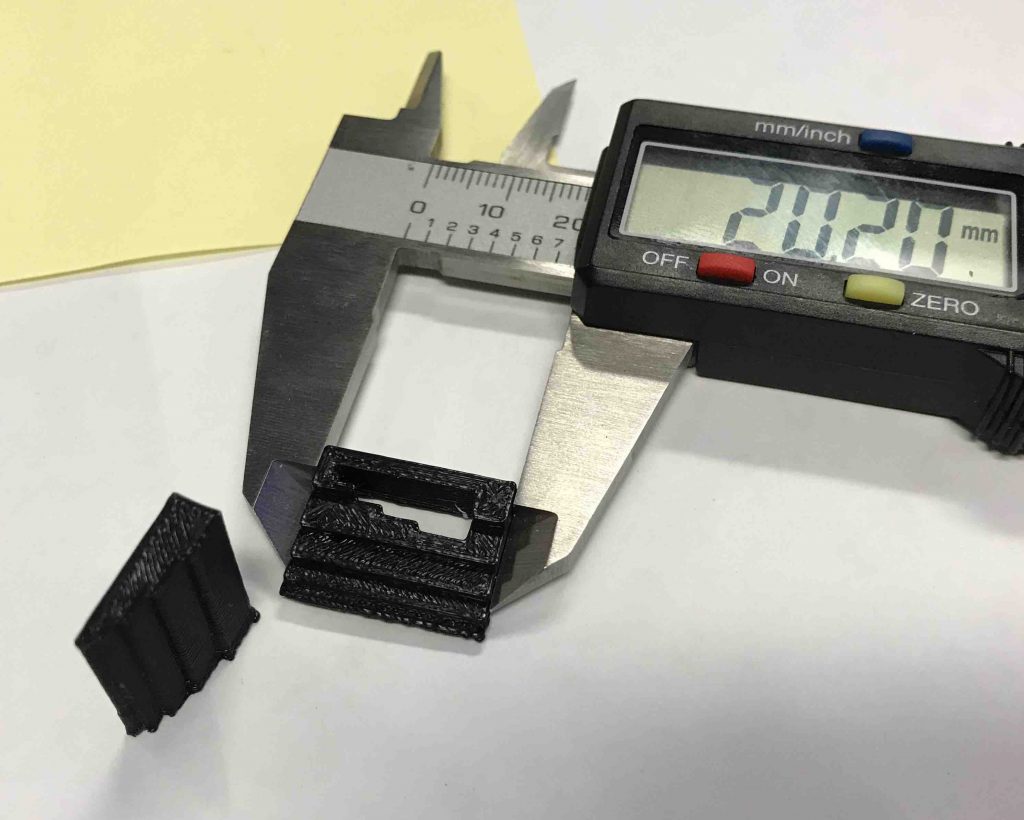 That's why our consultants are here! Get in touch if you need any help or want to make an appointment and
we will be happy to ensure that you get the best possible 3D print of your object.